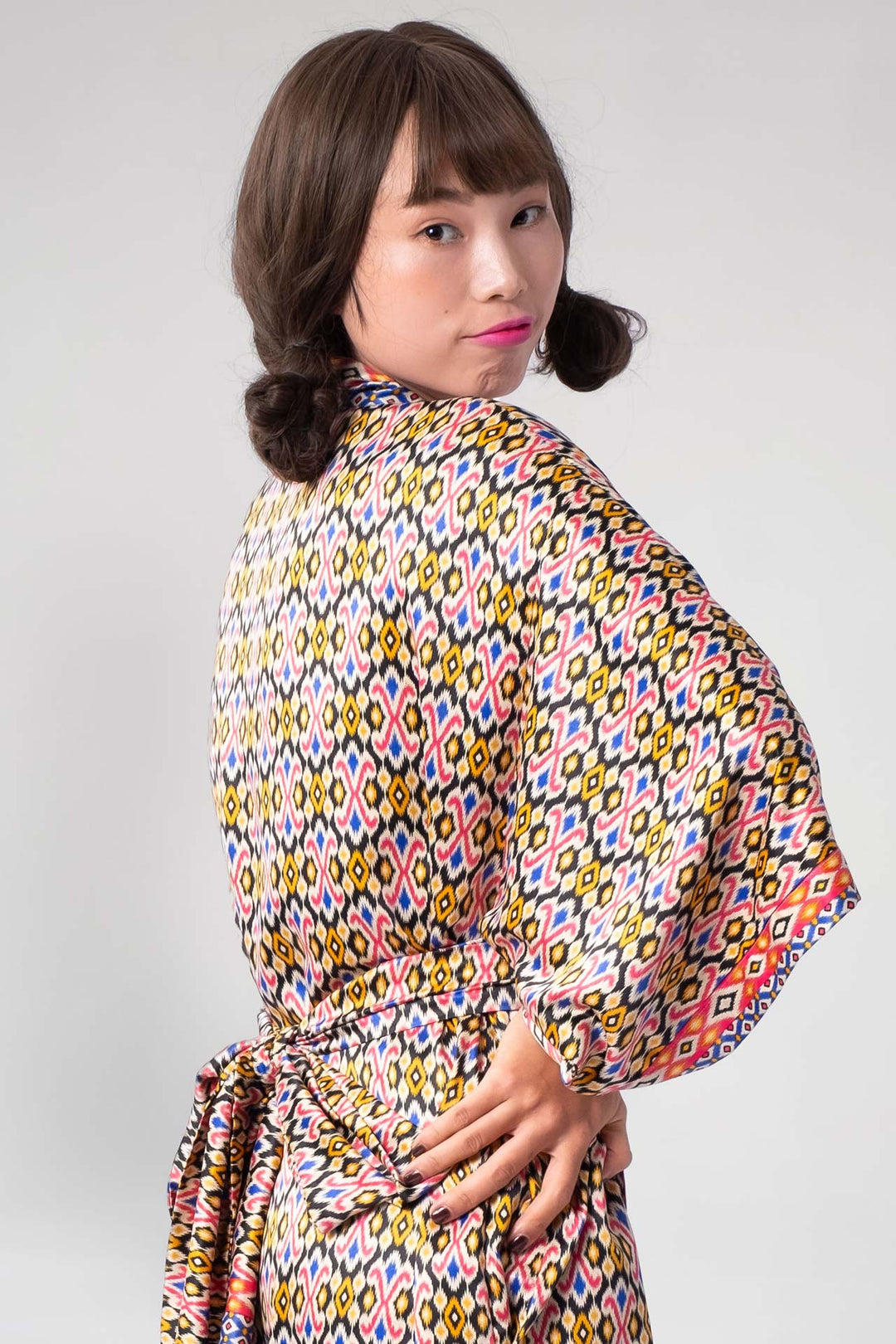 Wowness Cas
Short Kimono Robe
Print:
Wowness Cas

Xenon

Tropical Mirage

Pinko

Balified Sol

Wild Bloom Copper

Inverted Checkered

Prism Party

Xanadu Rouge

Krona Moss

Palay Pula

Ruby Reverie

Dragon's Lair

Nusa Helios

Aqua Disco

Fractal Fiesta

Cascada Mora

Cascada Azul

Obsidian Odyssey

Blushing Bouquet

Fandango

Encanta

Boombachi Spice

Chile Mangas

Boombachi

Aztec Berry

Pente

Cinco Arancia

Alive at Sunset

Wild Bloom Onyx

Pass the Wasabi

Emperor's Groove

Balified Ultra

Chichiboomba Chai

Fleur de Dijon

Pastello Mint

Autumn

English Breakfast

Cinco

Paisley Maze

Noble Charm Pearl

Noble Charm Gold

Midnight Orchid Deep Sea

Flor De Soto

Checkered Forest

Charred Swirl Fire

Aztec Moss

Alive at Dusk

Balified Red

Electric Pastel Sky
Availability: We got it! (Ships ASAP)
SHORT KIMONO-KAFTAN STYLE ROBE
Our Short Kimono Robe is mid-length and a perfect choice to take you from beach to brunch. It's the same silky, wrinkle-resistant kimono-kaftan robe you love, but in a more versatile fun-sized length! It can be worn open, with the obi belt for a traditional look, or snapped up as a kaftan. It's an all day, everyday comfort you'll never want to take off. 

Each kimono-kaftan robe comes with a matching zippered travel pouch for convenient storage and safe keeping. 

NOTE: Please message us for rush orders to confirm we have your selection in stock. We have most Rafiki garments on hand, but depending on your order and our inventory, we might need to make a custom order for you. This takes 7-10 days upon receiving your order.

Cut for a relaxed fit
Hidden hook-and-eye closures (to convert into kaftan)
Deep Pockets
Kimono sleeves
So soft it will make you squeal with joy
Shorty Rafikimono (a kimono-kaftan robe)
Extra-wide belt (used as head wrap or scarf too!)
Lined zippered travel pouch
Rafikimonos are built to last. It's made with a silk-polyester blend for utmost comfort. Unlike pure silk, Rafikimonos are easy care and easy wear.
To maintain its softness, hand wash your Rafikimono gently using mild soap and hang it up to dry it. Wash with similar colors. Lightly iron when needed to get it looking like new again. Rafikimonos are dry clean safe.
Rafikimonos are truly one-size-fits-all for 95% of people of different shapes and sizes. But for those with unique dimensions or particular requests, we can customize any of our products to fit you comfortably.
Unisex = loose fit
One-size-fits-most (will fit any xs to XL)
Models measure from 5'1 to 6'5
Please refer to our size guide in the product photos for the specific dimensions.